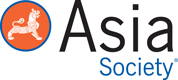 Asia Society is the leading educational organization dedicated to promoting mutual understanding and strengthening partnerships among peoples, leaders and institutions of Asia and the United States in a global context. Across the fields of arts, business, culture, education, and policy, the Society provides insight, generates ideas, and promotes collaboration to address present challenges and create a shared future.
The Asia Society Education Program develops youth to be globally competent citizens, workers, and leaders by equipping them with the knowledge and skills needed for success in an increasingly interconnected world. Through publications, conferences, workshops, newsletters, policy briefs, and online resources, Asia Society Education provides:
Effective K-12 strategies for integrating international education content across the curriculum
Successful approaches to creating world language programs
Preparation for teachers to teach about the world
Ways to "make the case" for global competence, including MappingtheNation.net – an interactive map of 1 million data points demonstrating the global connections of every county in the U.S.
Policy innovations to advance international education
Approaches to international benchmarking to support innovation
Ways to harness technology and create new opportunities for international collaboration
An understanding of how international education promotes academic excellence and equity for all students
To learn more, visit the Asia Society website.
Return to the Consortium partner page