Professional Development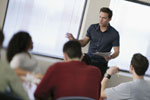 Practitioners working with adult English language learners need access to a wide range of resources, information, tools, and techniques to guide them in establishing and improving their programs and instruction.
CAELA Network staff have decades of experience in developing effective resources. We have featured some key professional development resources on this page, and we invite you to browse our collection of online resources from current and past projects.
---
Framework for Quality Professional Development for Practitioners Working With Adult English Language Learners



This online resource can be used to plan, implement, and evaluate professional development for practitioners working with adult English language learners at both the state and program levels.
---
EL Civics Online Courses
Learn more about this series of free courses and tutorials, created to assist in developing effective ESL lessons in the areas of U.S. history, U.S. government, civic participation, and the naturalization process.
For more information, visit www.elcivicsonline.org.
---
Browse our collection of free briefs, including:
Professional Development for Adult ESL Practitioners: Building Capacity