Welcome to the home of the Alliance for the Advancement of Heritage Languages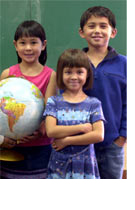 The Alliance for the Advancement of Heritage Languages (the Alliance) is committed to advancing language development for heritage language speakers in the United States as part of a larger effort to educate members of our society who can function professionally in English and in other languages.
The work of the Alliance is carried out through publications, the ongoing development of our Web site, a newsletter, and a listserv.
In addition, the Alliance is compiling the Heritage Language Programs Database to promote information sharing and capacity building.
---
Featured Resources
Read the Heritage Voices Collection
The Alliance has developed the Heritage Voices Collection, an online series designed to allow heritage language speakers and programs to share their unique voices with visitors to our Web site. View the collection.

The Alliance periodically posts answers to frequently asked questions about issues related to heritage languages.
Read
the FAQs.

Read the collection of informative briefs on issues related to heritage language.

STARTALK Project Supports Education in Less Commonly Taught Languages
STARTALK is part of a presidential initiative to enhance the nation's capacity to develop proficiency in critical languages.

Visit the STARTALK website to learn more.
---
Featured Websites

National Consortium of Language Program Databases
Partners in this national consortium collaborate to make information about language learning available to a wide range of audiences. Learn more.

Teaching Spanish to Native Spanish Speakers Website
CAL has revamped its Spanish for Native Spanish Speakers (SNS) Web site to provide updated information about the Spanish speaking population in the United States and expanded resources for working with Spanish speakers in Spanish language programs. Visit the website.