International Language Education 
CAL provides technical assistance and evaluation services for international language education efforts.  
In 2023, CAL provided technical assistance to an Arabic-English dual language school in Doha, Qatar. This included a site visit and review of instructional and programmatic practices that led to a report of recommendations for improvement and teacher professional development conducted on site and remotely.
In 2022, CAL served an Afrikaans-English dual language school in Cape Town, South Africa in a special project. CAL provided consultation on effective language use, program design, and instructional practices, and delivered professional development to teachers. A year later, the school founder contacted CAL once again to report on the changes that had been made for the better in the school and to discuss next steps for continuing improvement. 
In Djibouti, multilingual children receive instruction at school in French. In partnership with Family Health International (FHI360), CAL provides technical assistance support for improvements in teacher training and materials development. Our work incorporates best practices in second language learning strategies and seeks to improve early grade reading in line with the Djibouti Vision 2035 initiative.  
CAL worked across 20 districts in Ghana to support the project Education Quality for All (EQUALL) in  partnership with the Education Development Center (EDC), with funding from USAID. Working within Ghana's highly diverse linguistic ecology, this technical assistance project included support for the development of educational standards and the development of a bilingual/biliteracy program for all of Ghana's early primary schools. CAL also worked on the expansion of reading assessment materials to 13 Ghanaian languages. 
We have also worked with schools in international contexts, including analyses of language policies across International Baccalaureate (IB) schools. 
CAL's professional development work reaches worldwide and we have provided services to international schools in Hong Kong and Beijing, and welcomed professional development participants from across the world including from Canada, China, Hong Kong, Chile, South Africa, Kuwait, India, Peru, and Mexico. 
In 2018, CAL provided a series of four, remote, interactive webinar presentations to ICPNA Centers throughout Peru on effectively teaching English learners using the CAL's Seven Principles of Effective Instruction for English Leaners as the framework. 
Our international work also includes expertise in Teaching English as a Foreign Language (TEFL). 
The Peace Corps TEFL certificate program is a structured professional program that targets skills and strategies for Teaching English as a Foreign Language for Peace Corps Volunteers. CAL serves as the external validator, ensuring that the program meets rigorous standards and is in line with current pedagogical approaches to language education. 
In addition, CAL has supported international TEFL projects in China and in Saudi Arabia. 
CAL integrates our world language education expertise with research on study abroad programs. 
Partnering with the Council on International Educational Exchange (CIEE), the oldest and largest nonprofit, nongovernmental study-abroad and intercultural-exchange organization in the United States, CAL supported analyses of language proficiency outcomes for students participating in language exchange programs in Arabic, Chinese, French, German, Italian, Japanese, and Spanish. 
CAL has lead or partnered on US Department of Education International Research and Studies grant programs, including a study to examine strategies to promote oral proficiency gains, and examination of the impact of study abroad on language fluency. 
CAL conducts a wide range of activities to support the teaching and learning of English across the globe. We conduct research, provide technical assistance, and offer professional development for educators working with English learners. We develop assessments for English learners at all ages and levels of proficiency.
Research
CAL conducts both large-scale and small-scale research projects on a wide variety of topics related to language teaching and learning.
Technical Assistance and Evaluations
CAL offers a wide range of technical assistance services including conducting data-based program evaluations and needs assessments to determine program effectiveness and developing curricula and materials.
Professional Development Services
CAL's professional development services provide teachers with the conceptual knowledge and diverse learning strategies needed to help students learn English.
Resources, News, and Events
Using a Process-based Approach to Evaluate the Peace Corps TEFL Certificate Program – A CAL Commentary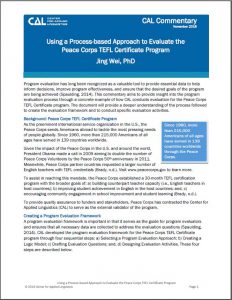 Using a Process-based Approach to Evaluate the Peace Corps TEFL Certificate Program – A CAL Commentary
Jing Wei, PhD

November 2018
Teaching and Assessing EIL in Local Contexts Around the World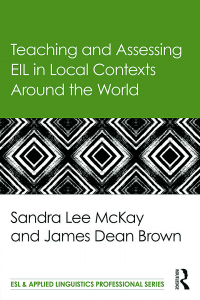 Teaching and Assessing EIL in Local Contexts Around the World
Sandra Lee McKay and James Dean Brown
Published by Routledge