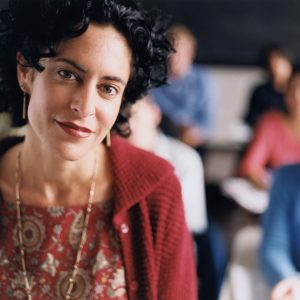 The Center for Applied Linguistics has provided language and cultural orientation services to educators, service providers, and businesses for over 50 years. CAL specializes in developing effective solutions for educators and practitioners working with language learners at all levels of instruction (preK–12, higher education, and adult education). Drawing on years of experience as teachers, researchers, coaches, and curriculum developers, CAL staff provide the tools, training, and resources educators need to help students of all ages succeed. CAL also has a long history of providing resources to service providers working with refugees and immigrants to help them adjust to their new lives in the United States.
From professional development to technical assistance, such as program evaluation, CAL can work with you to design a solution to meet your specific needs, help you improve your teaching skills, and support the language learners in your classroom or community. As a nonprofit organization, CAL makes every effort to provide cost-effective and high-quality services that can be tailored to meet your needs. 
CAL Solutions
CAL's principles-to-practice workshops and resources are designed to help educators boost the performance of English learners in the classroom and help adults succeed in their career or continuing education. Learn more. 
CAL SIOP
Informed by CAL's ongoing research, our experienced SIOP team provides a wide range of services, including SIOP Model workshops, job-embedded professional development such as guided lesson design and coaching, hybrid workshops that combine online coureses with face-to-face workshops, and technical assistance to help teachers integrate content and language instruction effectively. Learn more. 
Bilingual and Dual Language Education and Two-Way Immersion
CAL offers services to schools and districts that are planning or implementing bilingual, dual language or two-way immersion programs. Learn more.
Language Assessments
CAL has a long history of developing effective language assessments for children, including early language learners, and adults in a wide variety of languages. We can provide test design services, write and review items, develop rater training materials, conduct psychometric analyses, and design and execute comprehensive test validation studies. Contact CAL to discuss your interest in our language assessment services or click here to learn more about our assessment projects.
Immigrant and Refugee Integration
CAL offers a wide range of professional development and technical assistance services for service providers, schools, and communities working with newcomer populations. Based on our decades of experience, CAL can customize our services to meet your needs and budgets. Email CAL to learn more. 
Program Evaluation Services
Program evaluation has long been recognized as a valuable tool to provide programs with data to help inform decisions, improve program effectiveness, and ensure that the desired goals and stated outcomes of the program are being achieved. Whether on a small or large scale, external evaluations play an important role in strengthening programs serving language learners. CAL works as a partner in designing an evaluation methodology to best meet the needs of your program. Learn more.
Alignment Studies
CAL designs and conducts alignment and correspondence studies using research-based methodologies. These may include test-to-standards alignment studies or research that demonstrates the link between content and language proficiency standards. Results from alignment studies may be used for standards and assessment revisions, test validation, and federal accountability purposes.
We provide comprehensive services ranging from study design to analysis and reporting, and work with clients to align studies with their needs. Contact CAL to discuss your interest in alignment studies.