Twenty percent of the U.S. population speak a language other than English at home. As the number of students classified as English learners continues to grow, educators seek effective programs and instructional strategies to serve them. From its inception, improving the teaching of English around the world has been a core activity for CAL. 
CAL brings decades of expertise to supporting these emergent multilingual learners in preK-12 educational settings. We have many years of experience conducting research and developing effective resources for educators working with English language learners. Our projects include curriculum design, program evaluation, family engagement, and professional development. We bring a focus on language and literacy acquisition in the elementary and secondary grades, particularly for learners for whom English is a second language.  
At CAL, emphasis is placed on grounding educational practice in theory that is supported by scientifically based research, and on using research as the foundation for the development of pragmatic, forward-thinking approaches to resolving issues related to language and culture. CAL staff conduct and synthesize research relevant to promoting EL students' gains in English language proficiency and in learning of academic content to meet state academic standards, including research on second language teaching and learning, bilingualism and biliteracy, transfer of literacy skills across languages, professional development for language educators, language assessment, approaches for teaching content to second language learners, and language policy development. In addition, CAL staff provide program design and evaluation, development of content and program standards, professional development for teachers and administrators, development of research-based instruction and assessment materials for use in English as a second language and native language educational contexts, and language policy analysis and assessment.  
CAL has experience with both in-school and out-of-school programs that foster educational achievement for second language learners. Through its combined focus on research and the application of research to programs and instructional practice, CAL offers high-quality services that enable states and districts to improve their students' performance in relation to state academic standards. CAL's research analyses have also contributed to the development of language policy and have been instructive for teachers, program administrators, and policy makers in districts across the U.S. and worldwide.  
Professional Development: CAL's Approach 
Based on the research on adult learning theory and decades of work in professional development delivery in the fields of second language learning and teaching, the CAL PD team developed six guiding standards that influence CAL's professional development approach:  
Effective, engaging, and sustained professional development should be: 
research-based, content driven, and relevant;

 

meaningful and intellectually stimulating;

 

engaging, interactive, and collaborative;

 

well-organized and facilitated;

 

positively-framed, respectful, and inclusive; and

 

supportive of future learning and growth.

 
CAL PD uses these standards in designing PD, training facilitators, and as tools for evaluation and reflection of sessions. PD participants will have the opportunity to rate the workshops based on the standards above. 
Passiac Public Schools, NJ 

Passiac Public Schools, NJ 
Funder: CAL is providing a series of professional development services to train more than 500 educators across 34 cohorts in Passaic, NJ. CAL will provide a series of in-person and virtual ... Read more
Center for the Success of English Learners (CSEL)

Center for the Success of English Learners (CSEL)
Funder: The Center's research is supported by the Institute of Education Sciences, U.S. Department of Education, through Grant R305C200016 to the University of Houston.
Great Lakes Comprehensive Center

Great Lakes Comprehensive Center
Funder: U.S. Department of Education, Office of Elementary and Secondary Education
Los Angeles Unified School District English Learner Master Plan 2018

Los Angeles Unified School District English Learner Master Plan 2018
Funder: Los Angeles Unified School District
Welcoming Bilingual Learners with Disabilities into Dual Language Programs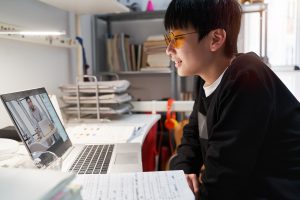 Welcoming Bilingual Learners with Disabilities into Dual Language Programs
This white paper reviews evidence concerning the capacity of young learners with disabilities to acquire more than one language during the preschool and school years and the characteristics of dual ... Read more
Assessment for Language Instructors: The Basics – Online Course
Assessment for Language Instructors: The Basics – Online Course
This online course provides world language instructors with an understanding of the fundamentals of assessment. The course lasts five weeks and includes five units that require 2 hours each. Unit ... Read more
Implementing the Common Core for English Learners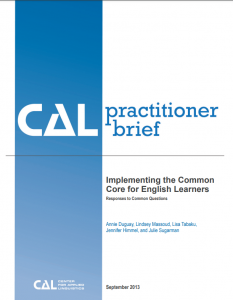 Implementing the Common Core for English Learners
Annie Duguay, Lindsey Massoud, Lisa Tabaku, Jennifer Himmel, and Julie Sugarman

September 2013
Developing Academic Literacy and Language in the Content Areas
Developing Academic Literacy and Language in the Content Areas
Published by Center for Applied Linguistics
Learning the SIOP Model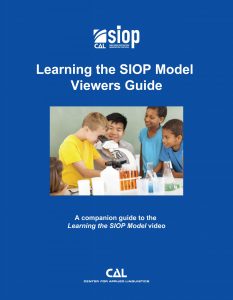 Jennifer Himmel and Julie Mazrum
Published by Center for Applied Linguistics
Listening and Speaking: Oral Language and Vocabulary Development for English Language Learners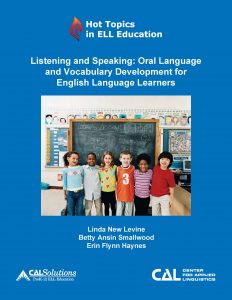 Listening and Speaking: Oral Language and Vocabulary Development for English Language Learners
Linda New Levine, Betty Ansin Smallwood, and Erin Flynn Haynes
Published by Center for Applied Linguistics
Math and Science: Skills and Strategies to Adapt Instruction for English Language Learners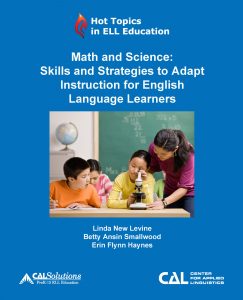 Math and Science: Skills and Strategies to Adapt Instruction for English Language Learners
Linda New Levine, Betty Ansin Smallwood, and Erin Flynn Haynes
Published by Center for Applied Linguistics
SIOP in Action: Instructional Videos Featuring Complete SIOP Lessons at Three Grade Levels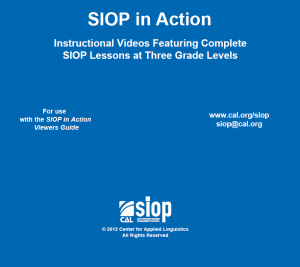 SIOP in Action: Instructional Videos Featuring Complete SIOP Lessons at Three Grade Levels
SIOP in Action Video: Sarah C. K. Moore, Julie Mazrum, and Jennifer Himmel (Producers)
SIOP in Action Guide: Jennifer Himmel (Compiler)
Published by Center for Applied Linguistics
CAL Authors Research on Less Commonly Taught Languages & Needs for K-12 Instructors