Assessment is a critical element in language education. Well-crafted assessments provide valid, reliable, and relevant information about student needs and student progress. Assessment data can be used to inform program evaluation and instructional design to better meet the needs of language learners and the educators who serve them. 
For over fifty years, CAL has been a key player in developing language tests used by many public and private agencies. CAL staff produce resources, develop tests, conduct research on language testing, and provide professional development for language teachers on assessment. Our assessment projects serve foreign and English language learners of all ages at all educational levels. This includes professional settings, such as the government and workplace. 
K-12 EL Assessment
Like all students, English learners in grades K–12 must meet the demands of college and career readiness standards. Given ELs' twin challenge of learning English while also learning academic content, language assessment plays a valuable role in ensuring that ELs have the opportunity to achieve academic success. In particular, assessing academic English language proficiency, rather than merely general social English, focuses on the language ELs need to know in order to access grade level academic content. 
The K–12 English language proficiency tests developed by CAL are part of a system of assessments that can be used to determine appropriate language support services, ascertain annual growth, and tailor language instruction. The overall goal of language assessment is to provide teachers useful information that can inform instruction to help students progress in learning English, so they may access the general education curriculum. Screener assessments ensure that ELs are identified appropriately to receive English language support, while summative test scores are able to demonstrate students' annual progress in acquiring academic English. Furthermore, interim assessments can indicate students' progress throughout the school year and can help teachers tailor instruction to meet instructional goals. 
Adult English Assessment
As the U.S. population becomes increasingly diverse and the number of adults learning English continues to grow, the need for effective language instruction and assessment has never been greater. CAL understands the needs of language educators and programs serving adult English language learners, and we have a long-standing commitment to serving adult ESL practitioners. 
CAL uses current best practices in test development to create its assessments, which are designed to help programs evaluate students and make instructional decisions. CAL's assessments use authentic language and communicative tasks that allow examinees to demonstrate what they know and can do in English. Our tests are reviewed and field-tested with the support of state education directors, local program directors, and experienced adult ESL teachers.  
CAL's adult ESL proficiency assessments meet NRS reporting requirements and are designed to give programs a full range of options for their assessment needs. BEST Literacy and BEST Plus address the different needs of adult English language learners by providing assessment options that can reliably demonstrate student progress. With BEST Plus for speaking and listening skills and BEST Literacy for reading and writing skills, programs can use our assessments together to test the full range of student performance. We invite you to contact us to discuss your program's needs. Learn more. 
World Languages Assessment
CAL has a long history of developing operational tests in foreign languages, particularly the less commonly taught languages. 
CAL developed the Foreign Language Assessment Directory (FLAD), which is a free, searchable directory of nearly 200 tests in over 90 languages. The FLAD serves as a starting point for teachers and educators to search for foreign language assessments. Educators can search by name of test, grade, proficiency level, language, skills targeted by the test, and intended test use. 
CAL has also developed an online tutorial to serve as a companion resource to the FLAD. This online tutorial introduces key concepts in language testing to help with selecting tests and using test results appropriately and efficiently. Topics include practical considerations when selecting a test, reliability and validity, the use of results, and the impact of testing in the classroom. A list of resources and a glossary of assessment terms are included. 
WIDA Partnership

Funder: University of Wisconsin, WIDA
NYSESLAT (New York State English as a Second Language Achievement Test)

NYSESLAT (New York State English as a Second Language Achievement Test)
Funder: New York State, via subcontract from MetriTech
CAL Tapped to Develop Career-Focused Resources for STARTALK Initiative
CAL Releases Actionable World Language Resources & Supplements
[VIDEO] Researchers Work to Maintain Choctaw Language By Adapting CAL Assessment
CAL Launches Updated Assessment Resources for World Language and Heritage Language Teachers
Assessment For Language Instructors: The Basics – Online Course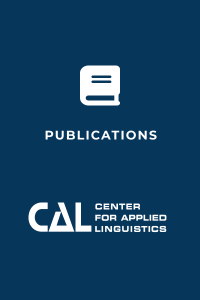 Assessment For Language Instructors: The Basics – Online Course
This online course provides world language instructors with an understanding of the fundamentals of assessment. The course lasts five weeks and includes five units that require 2 hours each. Unit ... Read more
Assessment Literacy For Language Educators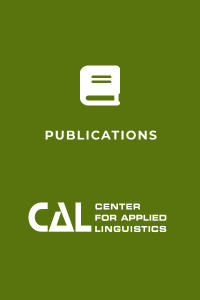 Assessment Literacy For Language Educators
Effects Of Instructional Hours And Intensity Of Instruction On NRS Level Gain In Listening And Speaking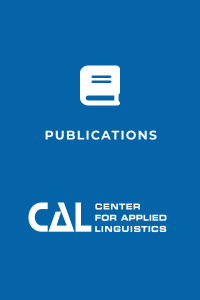 Effects Of Instructional Hours And Intensity Of Instruction On NRS Level Gain In Listening And Speaking
Adult English Proficiency Assessments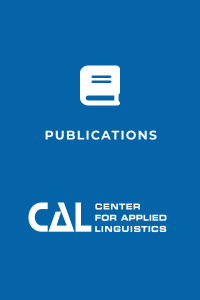 Adult English Proficiency Assessments
The number of adult English language learners in the United States continues to grow substantially and programs serving them face many challenges in providing instruction to meet their needs. Having ... Read more
Assessment for Language Instructors: The Basics – Online Course
Assessment for Language Instructors: The Basics – Online Course
This online course provides world language instructors with an understanding of the fundamentals of assessment. The course lasts five weeks and includes five units that require 2 hours each. Unit ... Read more
Ask a Test Developer – A CAL Commentary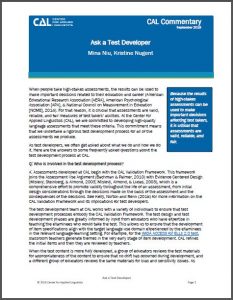 Ask a Test Developer – A CAL Commentary
Mina Niu, Kristine Nugent

September 2018
Ensuring Fairness in Language Proficiency Assessments: Q&A – A CAL Commentary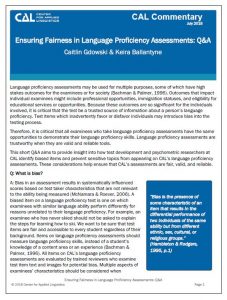 Ensuring Fairness in Language Proficiency Assessments: Q&A – A CAL Commentary
Caitlin Gdowski, Keira Ballantyne, PhD

July 2018
American Council on the Teaching of Foreign Languages (ACTFL) 2020 Annual Convention (Virtual)
Overcoming Barriers to K-16 Program Articulation