The ability to speak another language is a powerful asset. This is true for individuals and for society.  
At the Center for Applied Linguistics, we are committed to seeing teaching and learning thrive in all languages for learners at every level—from young children to adults.  
Our work spans the globe. Since 1959, we have been a trusted partner helping to promote language teaching and learning through our work with institutions, programs, and teachers.  Our vision is to help programs and educators succeed by providing the highest quality resources, research, and support.   
Working with all types of world language programs, CAL's experts create practical, effective solutions that are customized to local needs. We create assessments, design interactive professional development, and conduct research and evaluations.  
Through our world language services and research activities, CAL is committed to supporting language learning and cultural understanding in the U.S. and around the world.  
CAL's World Languages Team Can Help You Achieve Your Goals 
CAL offers virtual, in-person, and hybrid models of professional development, technical assistance, assessment support, and tailored services for educators of world languages at all levels of instruction. 
We provide the following services: 
program evaluation;

 

needs assessment;

 

program design services;

 

curriculum review;

 

assessment development;

 

review of local language assessments, rubrics, and rater training materials; 

 

professional development; and 

 

research studies.

 
Our services are tailored for your target audience: for teachers, administrators, schools, districts, and/or other institutions that are planning or implementing programs for language learners. 
CAL's World Languages team is pleased to offer research solutions resulting in written reports and presentations based on quantitative, qualitative, and mixed methodologies. Our research capacities include literature reviews, classroom observations, focus groups, interviews, surveys, review of extant program data, and proficiency testing. 
Heritage Language Education
Heritage language learners are students with a cultural or familial relationship to a language. As the U.S. faces a shortage of adults with proficiency in languages other than English, the languages spoken in communities across the United States can be harnessed and developed to address this shortage. Spanish, Chinese, Hindi, Vietnamese, Arabic, and Korean count among the largest language groups most commonly spoken in the home. World language enrollment in U.S. schools does not fully reflect the numbers of heritage language communities in the country and heritage language speakers in schools. However, the pool of students who enter schools with some degree of proficiency in another language presents a tremendous resource if they can continue to develop their language skills.  
CAL is an advocate for heritage language learning because we believe students' language and cultural backgrounds are a powerful asset. Through our work with partner institutions, we advocate and develop resources for heritage language programs and educators, and conduct research about best practices for working with this population.
Strengthening K-16 Language Program Articulation to Expand National Foreign Language Capacity
Strengthening K-16 Language Program Articulation to Expand National Foreign Language Capacity
Funder: U.S. Department of Education, International Research and Studies Program
Building an Effective Heritage Language Program: Training for K-12 Teachers, Administrators, and Families

Building an Effective Heritage Language Program: Training for K-12 Teachers, Administrators, and Families
Funder: U.S. Department of Education, International Research and Studies Program
Student Oral Proficiency Assessment (SOPA) Training

Student Oral Proficiency Assessment (SOPA) Training
Funder: U.S. Department of Education, International Research and Studies Program
Assessment and Evaluation Language Resource Center (AELRC)
Assessment and Evaluation Language Resource Center (AELRC)
Funder: U.S. Department of Education
Foreign Language Assessment Directory

Foreign Language Assessment Directory
Funder: U.S. Department of Education, International Research and Studies Program
STARTALK

Funder: U.S. Department of Defense
CAL Authors Research on Less Commonly Taught Languages & Needs for K-12 Instructors
CAL Tapped to Develop Career-Focused Resources for STARTALK Initiative
CAL Releases Actionable World Language Resources & Supplements
CAL Launches Updated Assessment Resources for World Language and Heritage Language Teachers
Welcoming Bilingual Learners with Disabilities into Dual Language Programs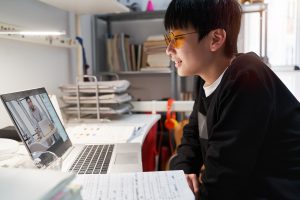 Welcoming Bilingual Learners with Disabilities into Dual Language Programs
This white paper reviews evidence concerning the capacity of young learners with disabilities to acquire more than one language during the preschool and school years and the characteristics of dual ... Read more
Using a Process-based Approach to Evaluate the Peace Corps TEFL Certificate Program – A CAL Commentary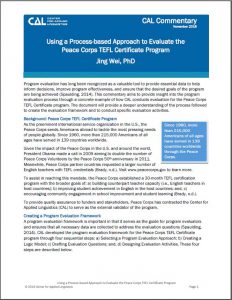 Using a Process-based Approach to Evaluate the Peace Corps TEFL Certificate Program – A CAL Commentary
Jing Wei, PhD

November 2018
Handbook of Heritage, Community, and Native American Languages in the United States: Research, Policy, and Educational Practice
Handbook of Heritage, Community, and Native American Languages in the United States: Research, Policy, and Educational Practice
Edited by Terrence G. Wiley, Joy Kreeft Peyton, Donna Christian, Sarah Catherine K. Moore, Na Liu
Published by Routledge and the Center for Applied Linguistics
Heritage Language Education: A New Field Emerging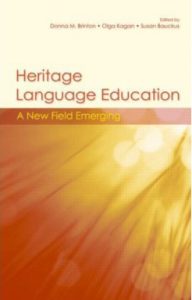 Heritage Language Education: A New Field Emerging
Edited by Donna Brinton, Olga Kagan, Susan Bauckus
Published by Routledge
Teaching and Assessing EIL in Local Contexts Around the World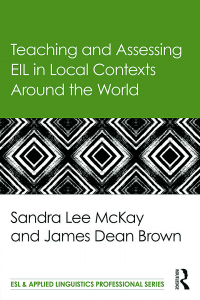 Teaching and Assessing EIL in Local Contexts Around the World
Sandra Lee McKay and James Dean Brown
Published by Routledge