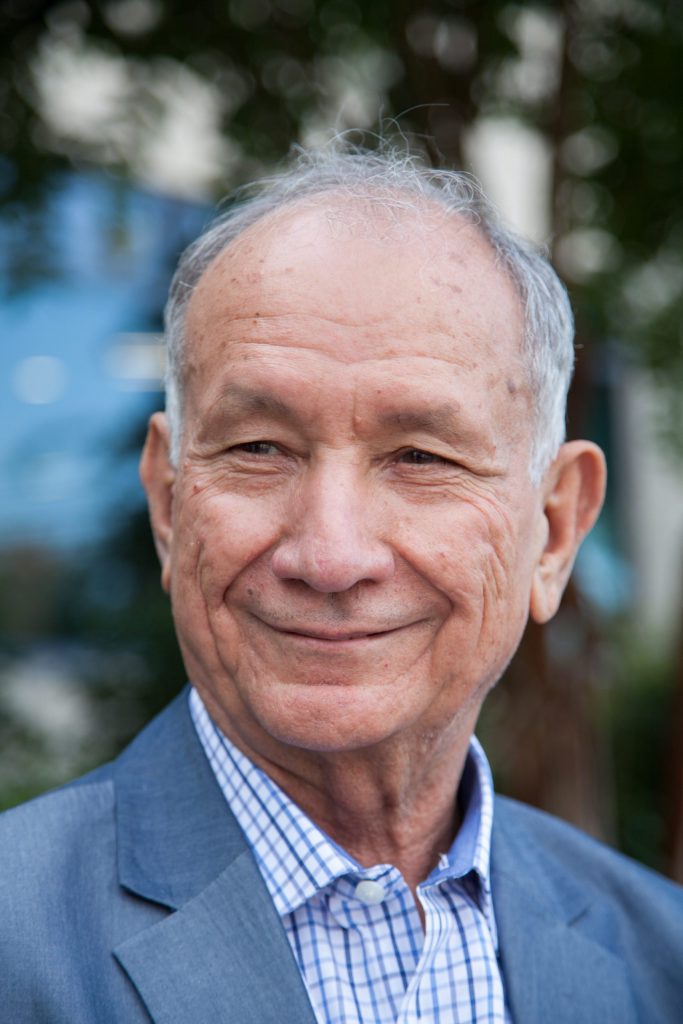 President & CEO Dr. Joel Gomez's remarks for all staff on updates related to the coronavirus.
Thursday May 7, 2020.
—
Good afternoon everyone, and thank you for joining me today for a brief update on CAL's response to the coronavirus. First of all, I sincerely hope that you and your loved ones are continuing to take care of yourselves and doing what you need to do to stay healthy and safe.
I especially want to recognize all staff who are caring for others at this time, either in their own home or down the street. I've heard heart-warming stories of staff members going out of their way to deliver groceries to family members –and to their neighbors– because their neighborhood grocery is out of chicken, or some other product.
I've also heard multiple examples of CAL staff supporting local food banks, homeless shelters, restaurant workers and delivery drivers from donating much needed resources to providing snacks and thank you notes.
This is what is so incredible about our CAL community: even during tough times, even if it means sacrificing something of ourselves, we find ways to help others. As busy as you are with your family and work, you all have mobilized to help to our community, and you are making a huge impact.
You have also made time and used your creativity to help our external professional community. For example, CAL is releasing a cascade of free online resources and policy briefs to keep our stakeholders informed, supported and engaged. With over 15 webinars already completed, and many more to come, CAL has racked up thousands of views and shares online.
In addition to our PD contributions to webinars, our CAL colleagues working with Best plus and Best Literacy webinars have also had resounding results with their webinars, which have totaled over 850 viewers. By doing this, we are giving a clear message to the field that CAL can be counted on as a go-to resource during these challenging times.
As a result of your creativity and commitment to service, I've heard that the University of Maryland is directing their student-teachers and interns to use CAL's free resources to fulfill some of their course requirements. I've also heard that our presenters are receiving numerous email messages of thank you's and requests for additional information after the webinars.
I'm impressed with how you continue to build relationships with our community members, helping them adapt to digital-learning with updates about upcoming testing dates, answering their questions about our assessments, and even helping them figure out howto register for online events.
But I want you to know that what you're doing isn't just completing the task at hand.
It is not an exaggeration to say that what you are doing is giving people is hope.
When you meet and go beyond their expectations, you are reminding them that one day, this virus crisis will be behind us.
In addition to providing services to our professional community and giving them hope for a virus free day, you are also demonstrating your resiliency and your creativity. Often, when faced with adversity, individuals become entrenched in their ways. In your case, you have stepped beyond expecting circumstances to adapt to you. Rather, you have adapted to the ever-evolving circumstances.
And, this ability is what must define us at CAL not only now, but also into the future. The future will require that professionals keep up with the times and the challenges it brings. We are learning a valuable lesson now – to adapt, to be creative, to be entrepreneurial, and more importantly, to work closer together as a team.
Now, I'd like to provide a few updates related to the impact of COVID-19 on us at CAL.
The DC, Virginia and Maryland government have announced the shuttering of all non-essential businesses and issued a mandatory stay at home order until May 15.
Virginia has announced a blueprint for easing public health restrictions. The blueprint outlines a 3 phase plan. Phase 1 will begin when:

There is a downward trend in percentage of positive tests over 14 days.
There is a downward trend in hospitalizations over 14 days
Increased testing and tracing
Phase 1 in Virginia will include:

Continued social distancing
Continued telework
Recommended face coverings in public
Limited opening of certain businesses with strict safety requirements
Maryland's governor has announced that he will re-open the state in a safe, gradual way. His office announced that he will provide additional details on Friday, May 15.
The mayor of Ocean City has stated that he will open the beaches by May 9 and continue to follow the Governor's social distancing requirements.
Maryland has focused on:

Expanding testing capacity
Increasing hospital surge capacity
Increasing supply of personal protective equipment -PPE
Working toward contact tracing.
The Maryland Secretary of Education just announced the closure of Maryland Schools for the remainder of the school year, while stating that online and distance learning opportunities will continue (view her remarks here)
The Secretary of Education announced a Comprehensive Plan for Education. This plan lays the groundwork for coming months for online and distance learning and for opportunities for recovery of lost education time. The secretary emphasized that the plan is not prescriptive. School districts will exercise discretion as to what is appropriate for each one of them. The Secretary announced three phases contained in the plan:
Phase I – No educational activities at schools
Phase II – Small group activities are permitted in school, students scheduled on alternative days, English learners and students with special needs to meet in small groups at school, etc.
Phase III – would allow students to return to school but schools would make adjustment day to day based on the context for their community.
It's important to know how one state, Maryland, is handling school activities going forward, because it may be a preview of how other states may also continue to move forward in reopening schools.
Now, I will focus on COVID-19 related topics at CAL:
We have received no reports of any cases of the coronavirus from staff or employees who have worked on the CAL premises.
The Rapid Response Team has posted updates on CAL's sick leave on the HR page of the CAL Intranet.
The Rapid Response Team has also opened an email account to answer any COVID-19 related questions.
The Rapid Response Team continues to monitor the changing landscape and we will provide updates to you as we have them.
Should you have any questions related to COVID-19 issues, please use the email address above to contact us, contact your direct supervisor or contact CAL's HR office.
And, very importantly, continuing with our telework activities assist us in staying safe and keeping others around safe. As time goes by, things appear to be getting better. However, the habits we have acquired for staying healthy must remain with us for the time to come –
Washing our hands
Maintaining social distancing
Wearing face masks in public
Being judicious in visiting commercial and public spaces
Continuing to exercise, eat well, and get lots of rest
I want to also acknowledge all of the excellent work that you all have been doing and the positive and healthy approach that you have continued with your work at home. We have continued to have CAL social gatherings online, and I appreciate the time and effort of all of you who have contributed to these activities. I want to offer any assistance you may need in continuing with these activities, and I look forward when we can have a CAL face to face group social event.
Thank again for all that you are doing to support our stakeholders, community members and your families during this opportunity to rethink how we are doing business. I'm happy to take questions at this time.