EHLS Request for Proposals
The Center for Applied Linguistics (CAL) seeks a provider to conduct an annual evaluation of its English for Heritage Language Speakers (EHLS) program. This evaluation aims to inform CAL and its major subcontractor, the Georgetown University School of Continuing Studies (SCS), how the EHLS program contributes to achieving its instructional program development and delivery goals. The evaluation must include feedback from program participants, faculty, and staff at Georgetown and CAL, and other key EHLS personnel as needed. The chosen provider will collaborate with CAL and Georgetown to design and execute the evaluation. View the official RFP HERE.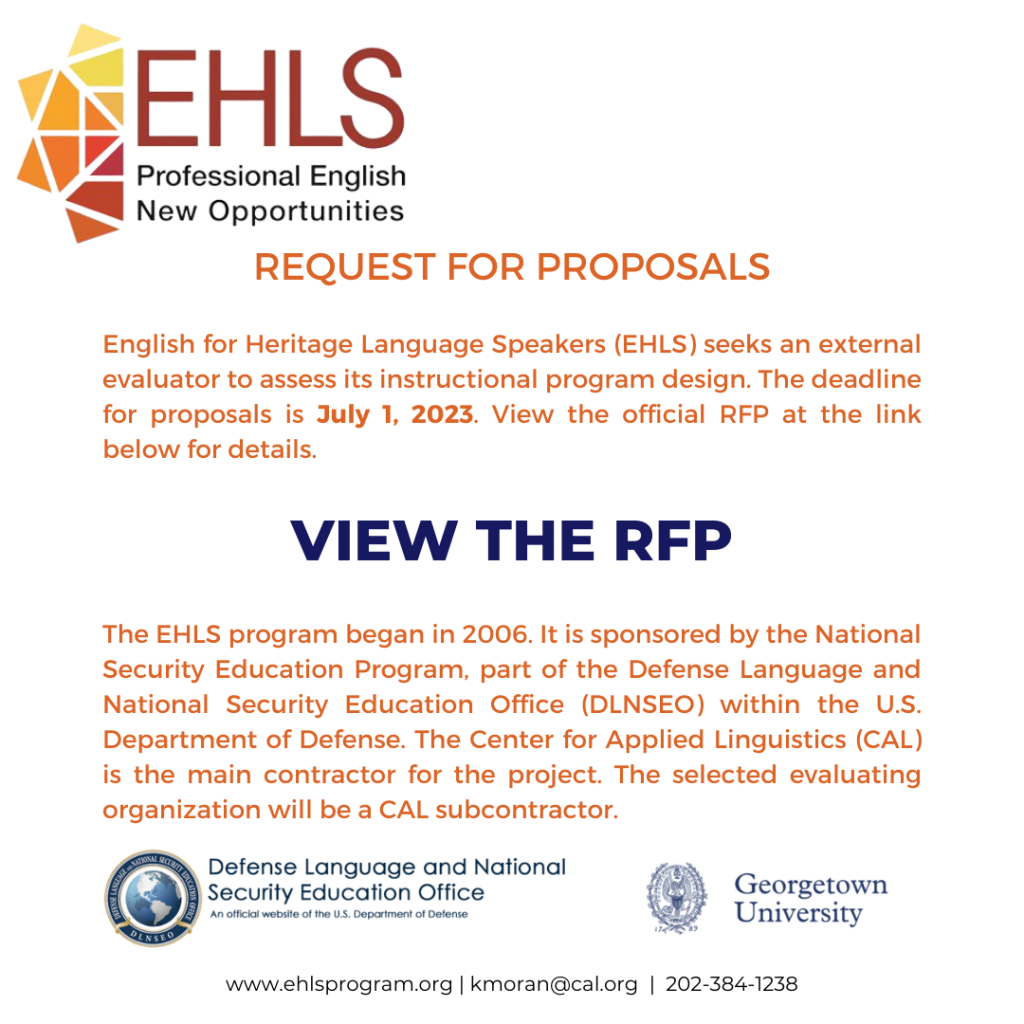 For inquiries and proposal submissions, contact Katherine Moran at kmoran@cal.org or 202-384-1238.
ABOUT EHLS
EHLS is an English for professional purposes program that recruits naturalized U.S. citizens who are native speakers of critical languages and prepares them for service in the federal government by developing their professional English and critical thinking skills and their understanding of the culture of the federal workplace. The program enrolls one cohort of 18 participants each year. Participants are typically early- to mid-career professionals who resided in their native country through young adulthood and are required to possess at least a bachelor's degree or equivalent; many participants hold one or more postgraduate degrees and/or professional certifications. Applicants to the program are tested for language proficiency and technology skills prior to admission. To qualify for admission, a candidate must receive a rating of Level 3 (General Professional Proficiency) in the native language on the Interagency Language Roundtable scales used by the federal government, a rating of Level 2 (Limited Working Proficiency) or higher in the four English modalities, and a rating of Pass on a basic technology test.
The instructional program consists of 6 months of intensive instruction (30 hours per week in class, plus another 40-60 hours of extra-class work), followed by 2 months of part-time, online instruction. The intensive portion takes place from January through June each year, and the online portion takes place in July and August.
The EHLS program began in 2006. It is sponsored by the National Security Education Program, part of the Defense Language and National Security Education Office (DLNSEO) within the U.S. Department of Defense. CAL is the prime contractor for the project; the selected evaluating organization will be a subcontractor to CAL.
Click HERE to learn more about EHLS.