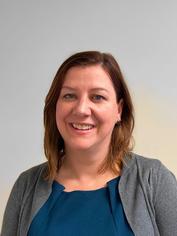 The Center for Applied Linguistics is pleased to announce that Dr. Kate Moran has been selected to lead CAL's English for Heritage Language Speakers (EHLS) and Adult Education department as the Director of Adult Language and Communication. In this role, Kate will provide leadership and direction for CAL's adult education initiatives and EHLS programs. Dr. Moran is supported by Project Manager, Chelsea Lafferty, LMSW.
Both Kate and Chelsea embody exemplary qualities and creativity in serving the adult education community with laser-like focus on CAL's mission of supporting culturally and linguistically diverse learners. Additionally, they continually work to improve the EHLS program and take initiative to broaden CAL's scope in the Adult Education arena. One example of their outstanding leadership is the development of a plain language initiative for CAL, which they recently presented on at the 2021 COABE National Conference.
###
About the Center for Applied Linguistics
CAL is a non-profit organization founded in 1959. Headquartered in Washington DC, CAL has earned an international reputation for its contributions to the fields of bilingual and dual language education, English as a second language, world languages education, language policy, assessment, immigrant and refugee integration, literacy, dialect studies, and the education of linguistically and culturally diverse adults and children. CAL's mission is to promote language learning and cultural understanding by serving as a trusted resource for research, services, and policy analysis. Through its work, CAL seeks solutions to issues involving language and culture as they relate to access and equity in education and society around the globe.
For more information, please call Trey Calvin at 202-362-0700, or email at info@cal.org