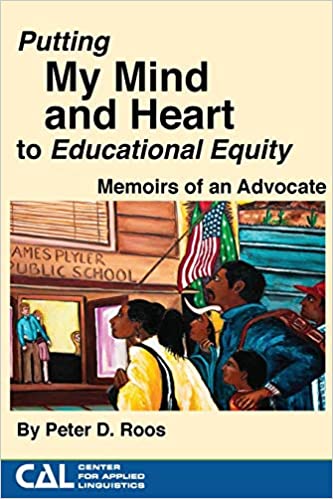 FOR IMMEDIATE RELEASE
To mark 38th anniversary of the landmark Supreme Court decision, Plyler v Doe, the Center for Applied Linguistics has published a timely memoir, Putting My Mind and Heart to Education Equity: Memoirs of an Advocate. from the civil rights advocate and lead counsel, Peter Roos (now available on Amazon).
In Plyler, the Supreme Court ruled that a Texas law prohibiting state funds for undocumented students violated the equal protection clause of the U.S. Constitution. The release of Roos's memoirs marks the 38th anniversary of the Supreme Court decision, a moment that has changed the lives of millions of undocumented students across the United States.
In the memoir, Roos emerges from law school in California, during the heady days of the civil rights movement, energized and ready to get involved in immigration policy and practice. The books zips readers across the litany of advocacy organizations with which Roos has worked, criss-crossing geography and levels of government, while painting important lines between the conditions that influence making law, filing lawsuits, and the decision-making through the regulatory process.
Ultimately, through recounting the people and culture of specific places, Roos's work is filled with critical and timely lessons for the next generation of immigration lawyers and advocates seeking to understand what has come before and what work has yet to be done.
In addition to Plyler, Roos has also be instrumental in many other extraordinary cases throughout his 40 years practicing law:
Goss v Lopez
United States of America v State of Texas
Keyes v School District No. 1
Comité de Padres de Familia v Riles
Leticia A. v Board of Regents
LULAC v State Board of Education
---
To read an excerpt from Putting My Mind and Heart into Educational Equity, click here.
Praise for Putting My Mind and Heart into Educational Equity:
Peter Roos's account of his four decades of advocacy for educational equity for language minority and immigrant children is both unique and inspirational. It is a memoir, but because Roos is who he is, it is also a chronicle of some key battles for civil rights in education and an advocate's guide to engaging the U.S. court system in the continuing fight for equal educational protection and treatment of all students, irrespective of immigration status, language background, or country of origin. This might sound like a heavy read, but it is anything but a dry or dusty accounting of legal issues in education. Rather, as Kenji Hakuta remarks in the preface, Roos's story "at times overflows with his joy for the work and reveals [his] ample gusto for life." It's a book that, once started, you will not put down until you are done reading it. And then you will read it again.
–Lily Wong Fillmore, Professor Emerita, Graduate School of Education, The University of California, Berkeley
---
The Center for Applied Linguistics (CAL) is a non-profit organization founded in 1959. Headquartered in Washington DC, CAL has earned an international reputation for its contributions to the fields of bilingual and dual language education, English as a second language, world languages education, language policy, assessment, immigrant and refugee integration, literacy, dialect studies, and the education of linguistically and culturally diverse adults and children. CAL's mission is to promote language learning and cultural understanding by serving as a trusted resource for research, services, and policy analysis. Through its work, CAL seeks solutions to issues involving language and culture as they relate to access and equity in education and society around the globe.
Contact:
Trey Calvin, Communications Director, tcalvin@cal.org