CAL Celebrates its 60th Anniversary in 2019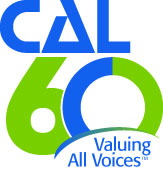 In 2019, the Center for Applied Linguistics (CAL) will mark the 60th anniversary of its founding. This milestone presents a unique opportunity to focus renewed attention on the significant role of language and culture in today's global society. Building on research, learning, and knowledge from its long history and current work, CAL will take a fresh look at the significant issues of language and culture that both unite and divide our world.
CAL's 60th anniversary theme of Valuing All Voices represents our long history of supporting language and cultural diversity around the globe and serves as a guide for activities during our anniversary year and beyond.
Connecting with our rich history, and guided by the thinking and work of our founder, Charles A. Ferguson, Valuing All Voices unites with our mission and values – representing an overarching goal of supporting both languages of instruction and origin to ensure that all language learners succeed in the classroom and beyond.
To bring our theme to life, CAL is updating our timeline of significant events in the world and at CAL that tells the story of how applied linguistics, and CAL in particular, responds to societal issues with research, information, and assistance. We are also exploring CAL's early work to make more of our classic resources and information available online through our website. Special events with our board of trustees, collaborators, and partners will highlight recent learning in the areas of language and culture.
Looking ahead, CAL will continue to play a key role in addressing complex cultural and linguistic issues by connecting policy and research to practice, providing resources that are reliable, relevant, and readily available. Through the lens of our theme – Valuing All Voices – we will continue to build on our rich legacy to improve lives by helping people of all ages acquire the language mastery that will open doors to greater opportunity, and by promoting positive responses to linguistic and cultural diversity. 
Working closely with our collaborators, partners, and funders, we will seek even more effective ways to connect research, policy, and practice, continuing our long tradition of information dissemination, and serving our important mission. 
Please join us as we renew our commitment to finding innovative solutions to the language and cultural issues that affect us all. Together, we look forward to writing the history of CAL's next 60 years.
Learn more about CAL through the years. 
Linguistic Reporter Collection
As part of our resource archive project, CAL has created a public electronic archive of the Linguistic Reporter, our print newsletter published from 1959 to 1982 that reported on news, events, and research at CAL and nationwide in the field of applied linguistics. This archive is a valuable resource for visitors interested in learning about CAL's history and work in accomplishing our mission. Browse the Linguistic Reporter Collection.
From the archives: