2021: Patricia Baquedano-López, PhD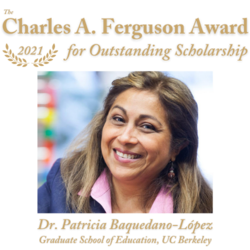 FOR IMMEDIATE RELEASE
WASHINGTON, DC, Mar. 8–Today, the Center for Applied Linguistics announced that Dr. Patricia Baquedano-López will receive the 2021 Charles A. Ferguson Award for Outstanding Scholarship.
"We are so pleased to present the 2021 Ferguson Award for Outstanding Scholarship to Dr. Patricia Baquedano-López," said Dr. Shirley Brice Heath. "There are people who, by their very nature, are destined to make an impact on the world, and we felt that Dr. Baquedano-López embodied that rare combination of outstanding scholarship, superior leadership skills, and the ability to foster collaborations among a wide range of people to enrich the world around them."
"It is truly humbling to receive this award," said Dr. Baquedano-López. "Charles A. Ferguson has been such an inspirational scholar across the language disciplines. He changed the way that we view language and offered a unique model of dedication, rigor, and care to the study of language as integral to society and the human condition.
"I am infinitely grateful to the Center for Applied Linguistics for this recognition and see it as an invitation to continue to honor Charles A. Ferguson's legacy and work."
Dr. Baquedano-López currently teaches in the Graduate School of Education at UC Berkeley, and her research examines the intersection of language, race, and education particularly as it relates to Indigenous Latinx students, critical research methods, discourse analysis, and parent engagement in schools.
Her current project is funded by a grant from UC MEXUS-CONACYT (with Adriana Cruz-Manjarrez, University of Colima) and centers on transnational displacements, processes of return migration, and education in the Maya diaspora Yucatan-California. The project brings together collaborators from the Mexican Migration Project and Instituto Nacional de Antropología e Historia (INAH) in Mexico. This project builds on Professor Baquedano-López's three-year ethnographic study funded by the Spencer Foundation examining the educational experiences of Indigenous Maya students and families in California schools. Prof. Baquedano-López is a co-founding editor of the new journal Language, Culture, and Society.
Dr. Baquedano-López holds a B.A. summa cum laude from Inter American University of Puerto Rico, a MTESL from Arizona State University, and a Ph.D., in Applied Linguistics from UCLA.
Dr. Baquedano-López will be presented the award at an online event on March 25.
Contact: Trey Calvin, Communications Director, 202-362-0700, tcalvin@cal.org