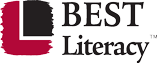 BEST Literacy is a print-based, combined test of reading and writing skills. The test uses authentic situations specifically geared for adult English language learners in the United States as the basis for test questions. BEST Literacy is aligned with the ESL descriptors of the National Reporting System and the Student Performance levels.
Reading tasks include reading dates on a calendar, labels on food and clothing, bulletin announcements, and newspaper want ads.
Writing tasks include addressing an envelope, writing a rent check, filling out a personal background form, and writing personal notes.
BEST Literacy Components
Examinee Test Booklets (Form B, C, or D)
BEST Literacy Test Manual (June 2008)
Read the BEST Literacy Test Usage Policy to learn about the appropriate uses of BEST Literacy.
Test Administration
BEST Literacy may be administered to groups or individuals in one hour or less. Each examinee is given one test booklet which contains instructions and the test questions. The test administrator verbally provides test directions and examinees then write their answers in the test booklet.
Training is not required by CAL, however, your state or funding agency may require its own training. Please check with your state director of adult education or funding agency.
Scoring BEST Literacy
All scoring is done after the testing is complete, either by the test administrator or by a designated test scorer. Scoring instructions are provided in the BEST Literacy Test Manual.
Using the separate scoring sheet that corresponds to the appropriate examinee test booklet (Form B, C, or D), the examinees responses are scored based on comprehensibility. The specific answers for the reading and writing sections (including the multiple choice, fill in the blank, completion, extended response, and cloze exercises) are provided for the scorer on the scoring sheet.
The BEST Literacy Test Manual contains a writing rubric and benchmarks to score the writing tasks. A raw score is calculated based on the combined scores of the reading and writing tasks. A scale score is determined using the conversion tables located in the BEST Literacy Test Manual.
Interpreting Performance
Performances on BEST Literacy can be interpreted in terms of the National Reporting System (NRS) ESL educational functioning level descriptors or the Student Performance Level (SPL) descriptors, designed specifically for adult learners of English.