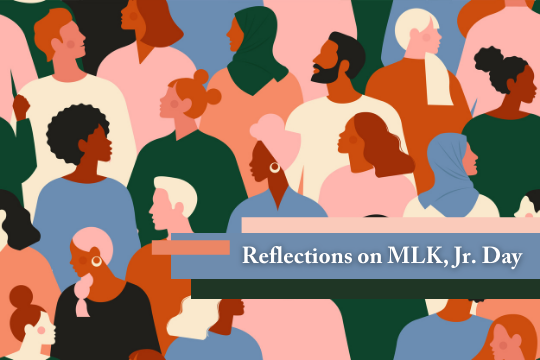 Reflections on Martin Luther King, Jr. Day
As we reflect on this national holiday, I want to reaffirm a core believe that we hold at the Center for Applied Linguistics: that languages bring people together, provide a positive pathway for mutual understanding and healing, and empower us to construct a better future. It's not only what we say and how we say that matters –in any language, in any context—but also the actions we take.
So rather than share one of the many inspirational quotes of Martin Luther King, Jr., I want to share how we at CAL are living out our mission to promote equity, access, and mutual understanding to culturally and linguistically diverse people around the globe.
Offering Resources on Digital Equity in Education
CAL understands that the lives of many vulnerable student groups and their families have been upended by the ongoing pandemic. As classrooms move to the cloud, ELs have been disproportionately impacted. This issue is simply too important, too urgent to be overlooked by our policymakers.
Almost one year since the pandemic began, policymakers now have access to the latest studies, research, and resources on the current status as well as best practices in digital education for our most vulnerable learners. And the truth is, the transition to online learning is leaving many behind.
To spotlight this issue, throughout 2021, CAL is hosting live, open discussions with policymakers on the status of Digital Equity in U.S. Education.
Each episode of our 30-minute webinar series, "Research to Policy: Critical Conversations in Language Education," examines education for multilingual learners and culturally diverse populations through the lens of digital equity. Topics range from student assessment, teacher education, students with disabilities, early childhood education, and more.
Strength in Diversity: Providing A Platform And Resources for Our Staff
"Building mutual understanding" is a part of the CAL mission statement we take seriously. In the wake of the murder of George Floyd, our board and staff rose to the challenge of addressing equity, access, and diversity among our own ranks and established an Equity, Diversity, and Inclusion Taskforce (EDI).
The Taskforce is organic, organized and led by all staff as a collective body whose purpose is to emulate CAL's mission internally; to make equity and access training available to staff; and promote equitable and inclusive behaviors, and mutual understanding for CAL's diversity. The Taskforce is proactively providing resources and activities to support CAL staff in identifying policies and changes that need to be made in order to be more equitable and inclusive.
It has made a major difference in how our staff engage with each other and our supporters. Our EDI team has developed Community Agreements to help us identify concrete ways to create an inclusive culture and to talk about and through conflict. Some of these statements include:
No one knows everything, but together we know a lot.
Taking space and making Space: if you are usually quiet challenge yourself to take more space, and if you usually talk a lot be mindful to leave room for quieter voices.
Speak from your own experience by using "I" statements rather than generalizations.
Words matter: be conscious of intent vs. impact. No matter our intentions, we're responsible for our impact.
Grounded in and conscious of our responsibility to the public as a non-profit, mission-oriented research-to-policy institute, the Center for Applied Linguistics is determined, more than ever, to take concrete actions to raise awareness and fulfill Dr. King's vision for equity and justice in America.
Sincerely,
Dr. Joel Gómez
President/CEO