National Dual Language Forum
The mission of the National Dual Language Forum (NDLF) is to advocate for quality dual language bilingual education that is rooted in principles of social justice, equity and access. NDLF represents a collaborative network of expert organizations and researchers dedicated to dual language education. The NDLF provides a forum to impact issues of consequence to dual language education in the United States and offers research-informed resources for policy makers, researchers, practitioners, and families in support of effective dual language programs.
The NDLF has two distinct activities: hosting of a dedicated website of information and resources and convening of experts to develop and present white papers at member conferences on important issues around dual language bilingual education.
We invite you to browse the website and visit frequently for updates. Email us with suggestions for links, resources, events, and more for the NDLF website.
Free Downloadable White Paper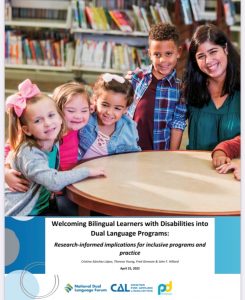 Welcoming Bilingual Learners with Disabilities into Dual Language Programs
This white paper reviews evidence concerning the capacity of young learners with disabilities to acquire more than one language during the preschool and school years and the characteristics of dual language programs and classroom instruction and intervention practices that support their language development, learning, and well-being in school.
Free Downloadable White Paper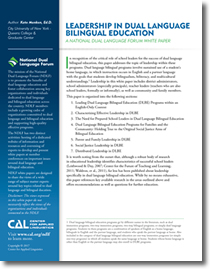 Leadership in Dual Language Bilingual Education
This free downloadable white paper from the National Dual Language Forum highlights the need for prepared school leaders for DLBE and outlines the characteristics demonstrated by leaders of successful programs.