Assessment and Program Articulation
How can I ensure my assessment plan is aligned with my program?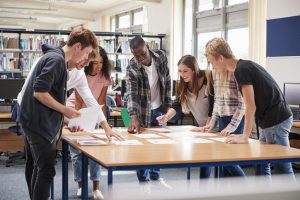 Students benefit when language programs are well articulated and aligned across courses. Alignment in the curriculum and in assessment plans supports teachers in providing effective instruction and supports students in their learning as they progress through the program. Collaboration and communication are therefore essential when planning for assessment at the programmatic level!
For post-secondary programs, it is ideal to also work on alignment and articulation with the schools that are sending your first-year students—high schools and/or community colleges. This type of articulation ensures that students can progress seamlessly from one program to another to continue their language learning. Articulation across programs is a big project that may require creating communities of educators and providing additional professional development, but it can start with looking at the alignment between exit assessments/credentials and your placement testing practices.
You can use the following strategies to support assessment plan alignment within your program.
Document and share your assessment plan with colleagues, supervisors, and other decision-makers.

Develop aligned rubrics for each communicative mode with shared criteria, levels, and language of descriptions for each level. Develop score justifications and exemplars of student performance at each level that can be shared with colleagues within your program.

Create a library of assessment tasks, checklists, and rubrics for evaluating student performance and aligned learning activities that can be shared within your program.

Advocate for assessment planning across your program. Work together to review and revise assessment plans and materials over time for continuous improvement.

Take a close look at how placement testing fits into your assessment plan and the placement practices across your program. For more information on placement testing, check out the previous section of this module.

In community colleges, think about how your summative assessments and exit exams can help students who are transitioning into work environments or transferring to four-year programs.